Top Ten Comic Book Covers of 2011
Comic Book Covers
Conventional wisdom would tell us you can't judge a book by it's cover. We here at Review to Be Named say screw convention. Let's get our judgment on, and take a look at the ten covers this year that made our geeky eyes widen with joy, before we even took the book off the shelf.
10.
Avengers Academy #13
These days, it's very rare to find a cover that actually gives you some indication of the actual plot of the issue. The cover to
Avengers Academy #13
not only gives a sneak peak of the fun in store in this the super hero prom issue, but also hints at a turning point for two of the main cast. The vibrant colors coupled with the ridiculously fun image of superhero costumes mixed with prom attire makes this a visually distinct cover, one that entices you to at at very least flip through the issue.
9.
Uncanny X-Force #4
The cover for
Uncanny X-Force #4
tells you everything you need to know about the moral conundrums facing its title band of outsiders and killers, who have come together to do "whatever it takes" to keep mutants safe. The series, excellently scribed by Rick Remender wastes no time showing its characters how much it will take, and as this cover makes clear, the group quickly has to weigh their desire to protect their species with the queasiness of murdering a child.
8.
Criminal: The Last of the Innocent #4
Ed Brubaker's take on pulp fiction and Noir is perhaps encapsulated no better than in this one image, the cover to the fourth issue in this volume. This is a tale of femme fatales and men with guns, told boldly and bloodily, with a retro feel this cover perfectly encapsulates.
7.
Animal Man #1
A great cover draws you in, and persuades you to give a chance to a comic you might usually ignore. I must admit, I wasn't planning on buying. But there I was in the store, staring down this cover: A Buddy Baker who had seen better days connected to the Animal Kingdom by a tree of blood. The image was unexpected for this character, visually striking, and above all else, disturbing. In other words it perfectly set the tone for Jeff Lemire's critically acclaimed
Animal Man
relaunch.
6.
Batman #5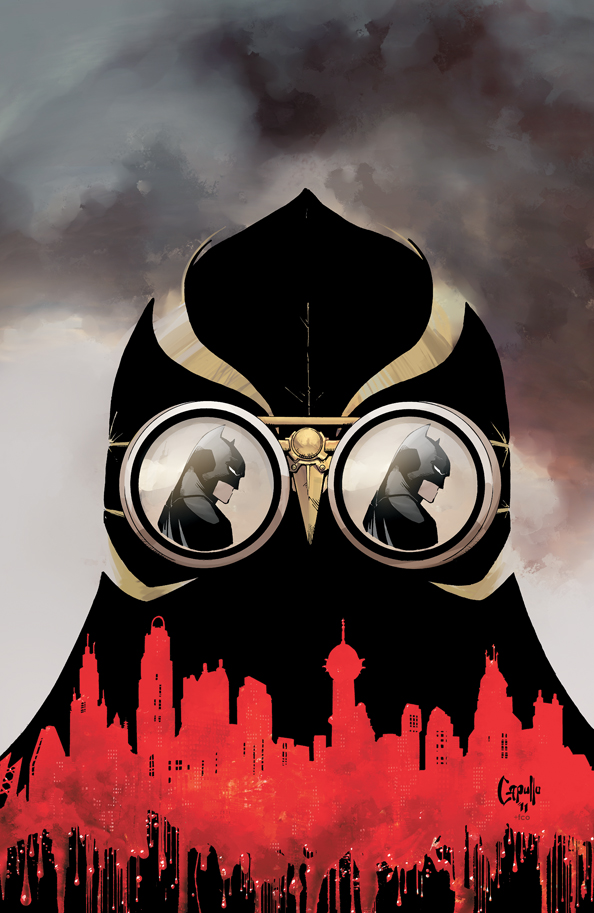 Batman is the man who watches over Gotham City from the shadows. And in one stark image, we all know things are about to get a whole lot worse for The Dark Knight. Someone is watching this watchman, and his city bleeds as a result.
5.
iZombie #19
(Chris)
A simple image that combines elements of horror with composition that evokes the covers of yesteryear's schmaltzy romance comics rendered beautifully in Allred's clean, infectious, and unmistakable style ensured that
iZombie #19
stood apart from everything else on the shelves the week it shipped. This book is not your typical horror/zombie comic, and this cover makes it clear that the book will challenge your preconceptions of the genre.
4.
House of Mystery #37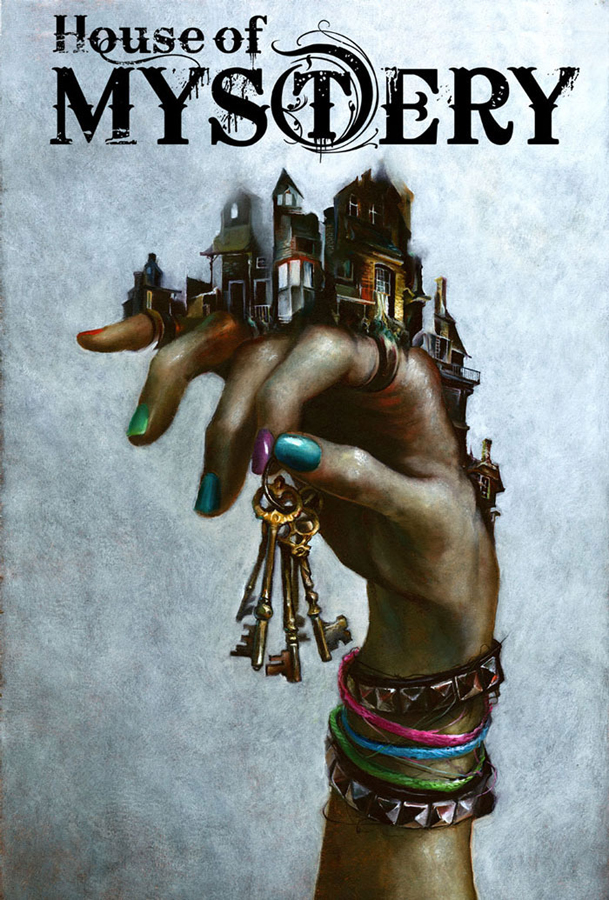 An evocative cover for an evocative title, this cover leaves you desperate to grab those keys and find out what's inside.
3.
Detective Comics #878
Dick Grayson's time under the cowl forced him to face down his demons in Scott Snyder's excellent run on the title. This cover has the new caped crusader on the trail of some enemies at sea, capturing perfectly the brooding darkness of Snyder's run and foreshadowing the violence that would go on within this issue's pages.
2.
The Amazing Spider Man #665
I have to admit, I'm a sucker for covers where the characters interact with the title of their book and this simple concept instantly evokes a slice of Spidey americana and brings a smile to my face. Spider-Man is the instantly relate-able everyman of the Marvel Universe and an infamous jokester and while the image has no bearing on the issue's contents, it just seems like something Spidey would do to unwind after a long night of webslinging. It's also a fun poke at the Spider-Man musical, without evoking any of the negative connotations thereof.
src="http://images.wikia.com/marveldatabase/images/8/8e/Amazing_Spider-Man_Vol_1_665_Textless.jpg" alt="Marquee Spider Man"/>
1.
Daredevil #1
Marcos Martin takes the top honor this year with a cover that is quintessentially Daredevil. The placement of the baton over Daredevil's eyes suggests his blindness as the character swings over the city in a pose that is evocative of classic Daredevil covers. The eye is instantly drawn to this book by a stark contrast of colors and a deceptively minimalist background. However a closer look at the beige background reveals the true genius of this cover as text is used to convey a vibrant cityscape in the way Daredevil would experience it. Great composition, vibrant colors, and a creative use of text combine to create a cover that is utterly unique and instantly classic.
Tags:
comments powered by Disqus