Smash: Season 1, Episode 2
The Callback
Smash, Season 1, Ep. 2
"The Callback"
Smash
is coming off a pretty strong pilot, so while I may not be all that pleased, I'm not entirely surprised that episode two falters a bit.
My primary concern with the show, as expressed
last week
, was the matter of pacing. And this week's episode throws us the somewhat surprising monkey wrench of actually casting the role of Marilyn. By the end of the episode, Ivy is named the victor and Karen is left desolate in Dev's arms. But clearly, this is only episode two, so I'm looking forward to the complete fuckery that is Ivy getting the part at this stage in the series. Clearly hijinks will ensue and this decision isn't going to stick
But I'm getting ahead of myself. Let's rewind a bit.
The episode opens with a distracted Karen, who appears to be the world's worst waitress, partaking in some day dreaming that involves complicated musical renditions of desperate Blondie songs. We're getting into slightly dangerous territory, with the non-stage production associated musical numbers. I can be slightly forgiving, but I wish they'd spent more time this episode in the titular callbacks instead of getting all tied up in the things outside the theater.
This is partially because, in the landscape outside of the theater, some of the characters are just awful. Tom is clearly biased in Ivy's favor and kind of a douche. Everyone thinks Derek is the ass, but Tom is barely any better. And Ivy is sort of downright mean, the exact sniping Broadway wannabe diva that Derek is hoping to avoid. She gets too excited that Karen is green. I wish she'd be a little more fake-gracious. Although I guess her sniping balances Karen's sickly sweet naivety. To Megan Hilty I make this desperate plea: please, work on your delivery. Last week I praised you for translating Broadway performance to TV. This week, you're a bit stilted. Don't make me regret mostly rooting for you.
The argument can be made that my issues with Hilty's delivery are actually a purposeful and integral part of Ivy's performance. Ivy is a Marilyn groupie. Ivy wants to be Marilyn: she wants to fall into the same traps. She might be a student of Marilyn but she hasn't really learned anything worth learning from Ms. Monroe. This is evident in the fact that she falls so easily into Derek's arms, a decision that is bound to cause issues in the very near future.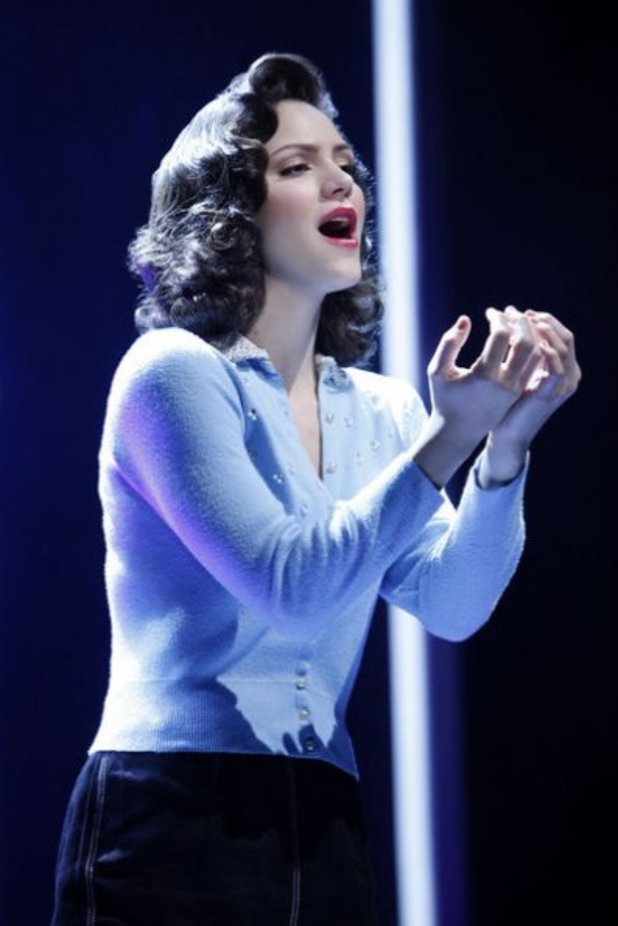 To that end, if the musical is meant to start the way Julia and Tom lay out here (in a non-linear and rather intriguing fashion, with "Let Me Be Your Star" opening the production rather than gracing the act break) then Karen should get the part. I don't buy this presentation from Ivy. That's because Ivy is Marilyn, but Karen is Norma Jean. Ivy is too big for this structure. And I guess this is the dilemma that keeps the casting board at wits end throughout the episode.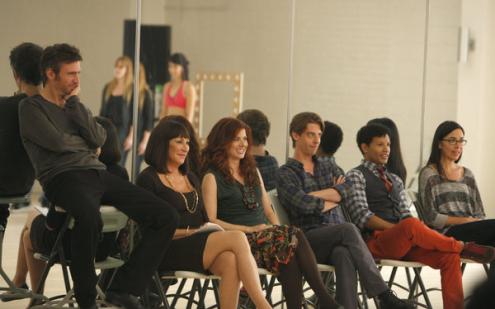 I have some sympathy for Karen, because it wasn't so long ago that I myself was looking for my "big break" in the form of a post-grad job. If you think about it, auditioning for Broadway isn't all that different from applying to a real life job, especially these days. I had one job interview that included a resume, cover letter, three different writing tests (plus writing samples) references, and finally, an interview (where the interviewer asked me NO QUESTIONS. What is that?) so I understand the emotional turmoil of double call backs. Too often it is about whom you know, not what you can do, and no one seems to acknowledge that you have to start somewhere. So Karen needs to see the dance combination a bunch of times. Ivy has been at this for ten years, so it hardly seems fair to count Karen out for that, considering she pulls the number out in the end.
I like the edge Karen gets during "the Twentieth Century Fox Mambo." She proves, as is necessary, that she's not such a good girl after all. And there's a palpable change in her once that blonde wig gets on her head. It's something the casting board is looking for that Karen has and Ivy doesn't: dynamism. With Ivy, it is unclear where the line is between Ivy and Marilyn. Sometimes she does better being Marilyn when she isn't playing her at all. While typically the question of "is she too perfect?" would piss me off like none other, with Ivy it sort of makes perfect sense. Because whereas Karen is tense and somewhat stiff in her greenness, Ivy is overworked and overwrought in experience, and Karen's weaknesses are the ones that play more into the role.
Also, there are a number of times when Karen just made me want to throw my hands in the air. "Do you need me to be doing more Marilyn?" No, sweetie, you're only reading for the part OF FREAKIN MARILYN. Point goes to team Ivy on that one.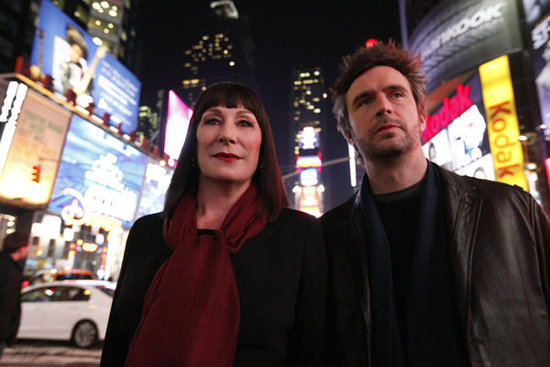 I want to spend some time talking about my favorite thing in this episode, and in the series thus far: Derek and Eileen. I love Derek and Eileen together. What a fun little pair. I'm glad that Derek is tempered by her obvious presence. If he tried to be as over the top as he is around everyone else around the absolute force-of-nature that is Anjelica Huston, there would be a problem. But he doesn't so there isn't so much. This is the couple I'm watching, not Derek and either of the Marilyn hopefuls
Speaking of Derek and the Marilyn hopefuls: the scene where him and Ivy have their "moment" totally skeeved me out. Is there any genuine emotion there? Am I supposed to sense an actual connection or chemistry? Because I totally don't. Maybe it's because Ivy has shown just how far she is willing to go for this part up to this point. I can't help but think that this is just another means to an end for her. Whereas the weird chemistry between Karen and Derek has more of this mentor-ish/David Fincher-Rooney Mara
thing
going on that makes it more believable, and more compelling.
Not to mention, Derek falling into bed with Ivy continues the train of clear favoritism leaning in the buxom blonde's favor. Tom wants her, and he's pushing for her hard; she gets spies in the auditions; and no one even seems to really know Karen's name, instead constantly referring to her as "the new girl." It's unfair, but I'm ok with it thus far, because I think it means that Karen will just claw her way up.
Grade:
B
Strays
Ellis is going to be some major trouble. I can tell by his salmon color pants. I hope that they don't make Tom sleep with Ellis, if they already have Ivy sleeping with Derek. Too much cliché. I can forgive some kitsch, but Ellis being your typical theater queen AND the Lolita"¦.that would be too much.
Damn pinko liberals in show business""why can't Julia adopt American?
O little miss Karen, why didn't you tell your perfect boyfriend that Derek had you traipse around in his shirt? I smell trouble!
Suddenly Julia's husband doesn't want the baby? He was so gung-ho last episode, giving her so much shit for taking on the musical. And now he just wants to drop it, for completely un-Marilyn related reasons? Also is their son played by a different actor than the guy in the pilot? And isn't he a bit too old to want a baby sister so bad? No, there really is nothing sexy about p-orbitals. The relationship between Julia and her husband just isn't working for me. I'm going to be sooo willing for her to fuck up her marriage with the guy who is coming in to play Joe DiMaggio next episode
LOL at Ivy just having a perfectly appropriate song ready for her "surprise" performance to close the episode. Although I guess if that's ever a legitimate fact, it's with Broadway performers
Tags: Smash
comments powered by Disqus